Got cash vouchers but not sure where you can spend it?
We've got you covered! Get your shopping bags ready and take a look at this list of participating stores that are accepting Pavilion Bukit Jalil cash vouchers: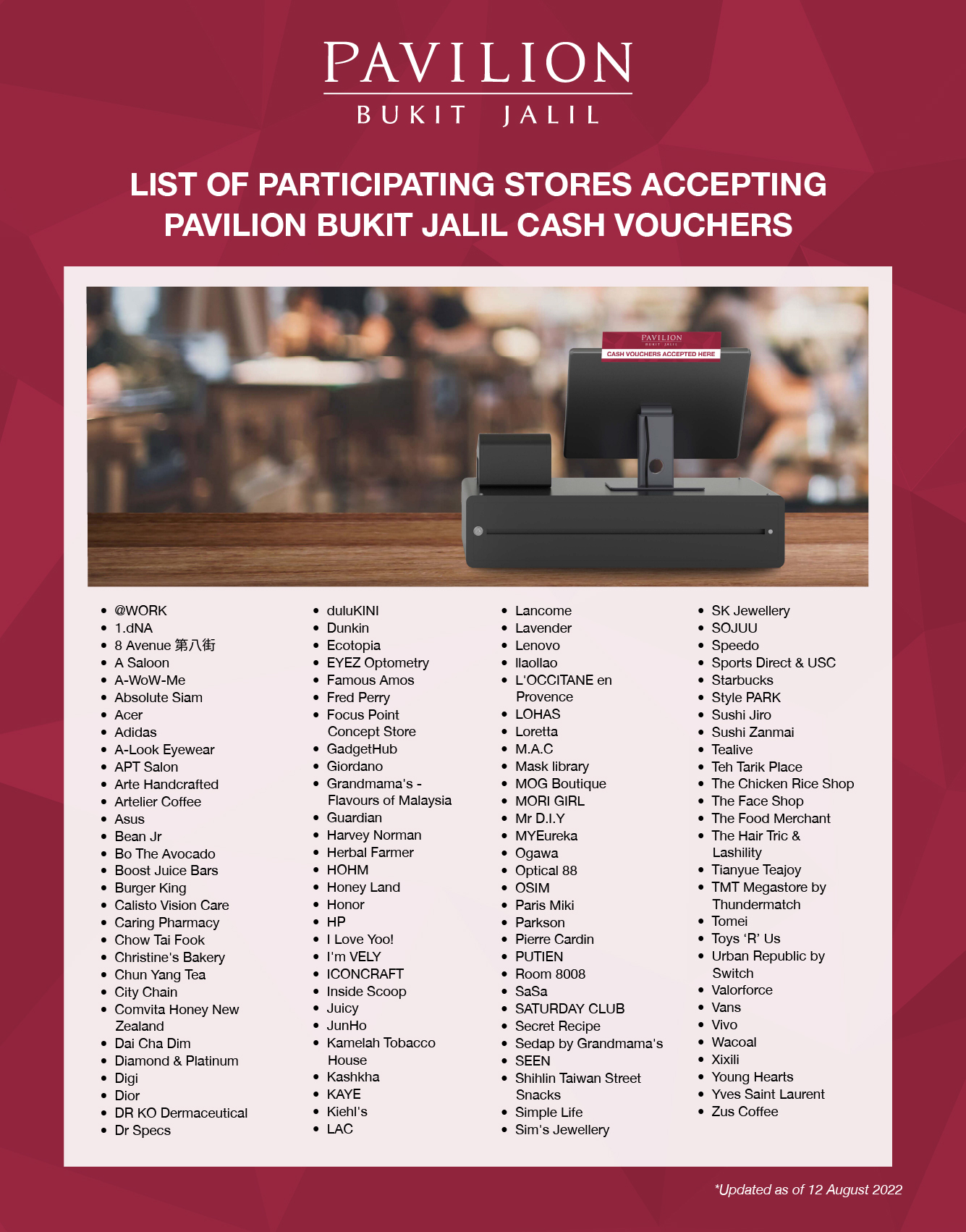 @WORK
1.dNA
8 Avenue 第八街
A Saloon
A-WoW-Me
Absolute Siam
Acer
Adidas
A-Look Eyewear
APT Salon
Arte Handcrafted
Artelier Coffee
Asus
Bean Jr
Bo The Avocado
Boost Juice Bars
Burger King
Calisto Vision Care
Caring Pharmacy
Chow Tai Fook
Christine's Bakery
Chun Yang Tea
City Chain
Comvita Honey New Zealand
Dai Cha Dim
Diamond & Platinum
Digi
Dior
DR KO Dermaceutical
Dr Specs
duluKINI
Dunkin
Ecotopia
EYEZ Optometry
Famous Amos
Focus Point Concept Store
Fred Perry
GadgetHub
Giordano
Grandmama's - Flavours of Malaysia
Guardian
Harvey Norman
Herbal Farmer
HOHM
Honey Land
Honor
HP
I Love Yoo!
I'm VELY
ICONCRAFT
Inside Scoop
Juicy
JunHo
Kamelah Tobacco House
Kashkha
KAYE
Kiehl's
LAC

Lancome
Lavender
Lenovo
llaollao
L'OCCITANE en Provence
LOHAS
Loretta
M.A.C
Mask Library
MOG Boutique
MORI GIRL
Mr D.I.Y
MYEureka
Ogawa
Optical 88
OSIM
Paris Miki
Parkson
Pierre Cardin
PUTIEN
Room 8008
Sa Sa
SATURDAY CLUB
Secret Recipe
Sedap by Grandmama's
SEEN
Shihlin Taiwan Street Snacks
Simple Life
Sim's Jewellery
SK Jewellery
SOJUU
Speedo
Sports Direct & USC
Starbucks
Style PARK
Sushi Jiro
Sushi Zanmai
Tealive
Teh Tarik Place
The Chicken Rice Shop
The Face Shop
The Food Merchant
The Hair Tric & Lashility
Tianyue Teajoy
TMT Megastore by Thundermatch
Tomei
Toys 'R' Us
Urban Republic by Switch
Valorforce
Vans
Vivo
Wacoal
Xixili
Young Hearts
Yves Saint Laurent
Zus Coffee
*Updated as of 12 August 2022.