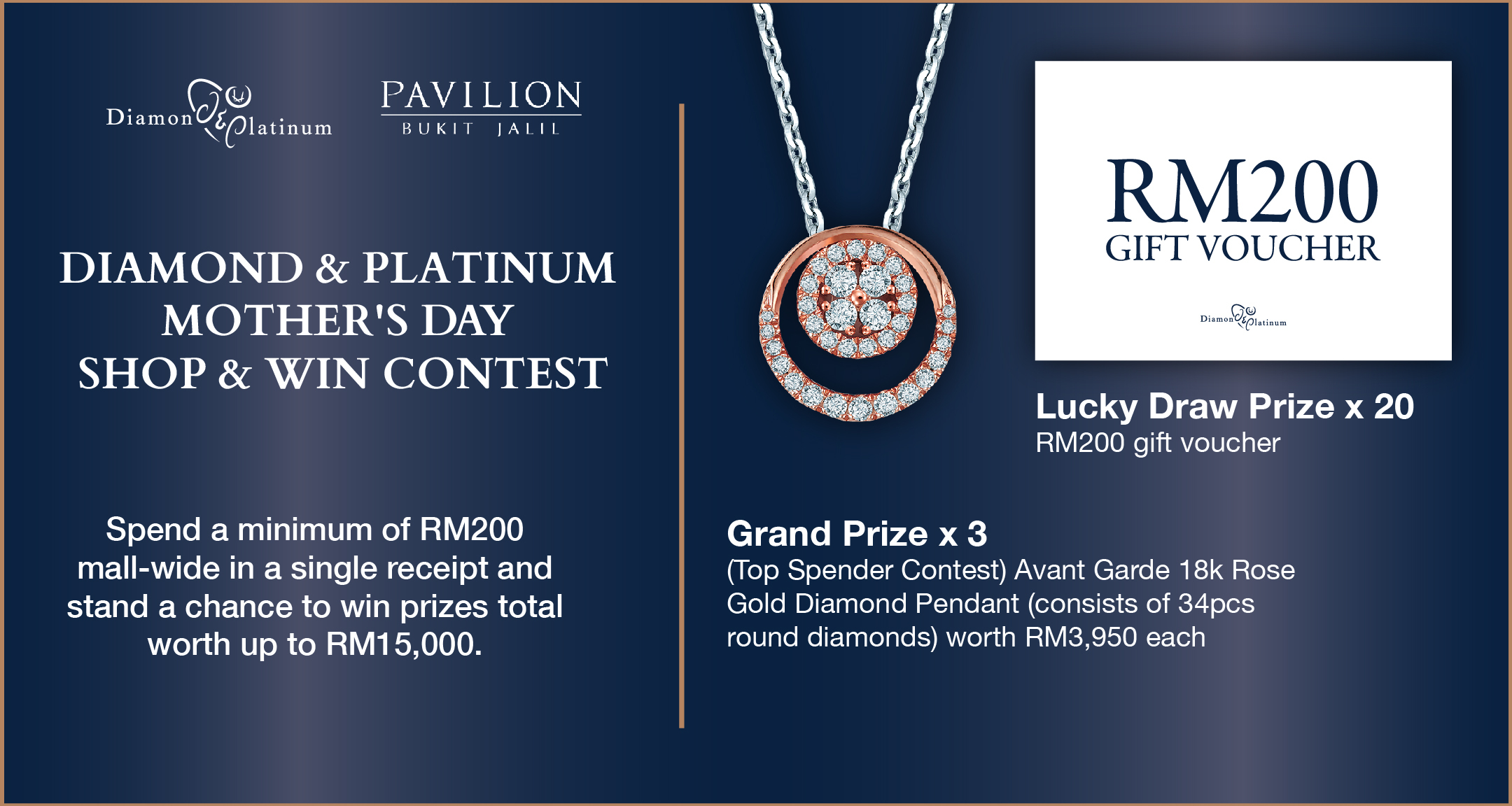 Spend a minimum of RM200 mall-wide in a single receipt to stand a chance to win exclusive Diamond & Platinum Avant Garde 18k Rose Gold Diamond Pendant and gift vouchers total worth up to RM15,000!
Top Spender Prizes
3x Grand Prize Winners – Diamond & Platinum Avant Garde 18k Rose Gold Diamond Pendant (worth RM3,950 each)

Lucky Draw Prizes
20 x Lucky Draw Winners – Diamond & Platinum Gift Voucher (worth RM200 each)

CONTEST ELIGIBILITY
The contest is open to all legal residents of Malaysia aged 18 years and above as of 1 May 2023. Pavilion Bukit Jalil reserves the right to request for identification documents as proof and for purposes of verifying the identity of a Participant.

Pavilion Bukit Jalil shall reserve the right to exclude and/or disqualify Participants who do not fall within the category of Participants and/or who are in breach of the Contest Rules and Regulations.
CONTEST MECHANICS
To be entitled to participate in the Mother's Day Shop & Win Contest, a Participant is required:

To make a purchase at any outlets in Pavilion Bukit Jalil with a minimum value of RM200 in a single receipt.

To complete a contest form, available via QR Code at the Concierge Counter, Level 1, 3, 5 or Diamond & Platinum store, Level 2 (Orange Zone) and answer the questions set out in the Contest Form.

To complete the online form by filling in all the empty fields and click on submit by the Entry Deadline.

To retain original single-receipt dated within Contest Period, which is 1 - 31 May 2023 that matches the online entry as proof of purchase.

Only original and valid printed receipts will be accepted. Any receipt that is illegible, mutilated, altered, duplicated, tampered with, not obtained legitimately, contains printing typographical, mechanical or other errors or the printing is unclear or does not contain the required information is invalid and will not be accepted. Pavilion Bukit Jalil reserves the sole discretion and rights to disqualify such invalid receipts.

The eligible 3 Top Spender winners will be determined by the most spending amount submitted with correctly answered questions in the contest form.

The eligible 20 Lucky Draw winners will be determined by lucky draw from the total number of qualified entries received during the Contest Period.

WINNER ANNOUNCEMENT

The Winner will be determined by 4 June 2023.

The Winner is eligible to win one (1) Prize only. The Winner(s) will be contacted by a Pavilion Bukit Jalil representative via the phone number as provided on the Contest Entry Form furnished to Pavilion Bukit Jalil at any time during the office hours from 9:00am to 6:00pm on any working day, after 5 June 2023.

Notwithstanding the above, Pavilion Bukit Jalil reserves the right to use any other method or medium that it deems fit at its sole and absolute discretion for the purpose of announcing the Mother's Day Shop & Win Contest Winner(s).

The Winner hereby authorises Pavilion Bukit Jalil and its affiliated program partners to disclose or publish their names, picture submitted photos and video content taken during all activities (ceremony, gathering and events) in media, marketing or advertising materials at any point of time (throughout the Campaign period and post-Campaign period).

The Winner may be requested to attend a Prize giving ceremony, gathering, and/or media events or, of which the date, time and venue will be notified by a Pavilion Bukit Jalil's representative. All transportation, accommodation, personal expenses and any other costs incurred in relation to attending the Prize giving ceremony, gathering and/or media events shall be borne by the Eligible Winner.


PRIZE FULFILLMENT CONDITIONS

The eligible prize winners will be required to submit by courier all the original printed receipts dated within the Contest Period that match all the entries as well as a copy of their NRIC within three (3) working days from the date of notification as proof of purchase, failing which, Pavilion Bukit Jalil reserves the right to disqualify the eligible winner.

In the event an eligible winner's entry and/or receipt does not meet the Contest requirement and verification, the eligible winner will be disqualified and Pavilion Bukit Jalil reserves the right to conduct another lucky draw to find another eligible winner as a replacement.

The Winner is required to provide necessary personal information (such as name, IC number, address, contact number and email address) to Pavilion Bukit Jalil and grant Pavilion Bukit Jalil the permission to share the information with third party (3rd) party to make the necessary prize arrangements.

By participating in this Campaign, the Winner shall be deemed to have consented to his/her Personal Data being processed by Pavilion Bukit Jalil and/or its third party, sponsors, agents, representatives for the purpose of awarding, registration of the Prize in the name of the Winner, correspondence and such other related matters. Any Personal Data collected will be processed in accordance with the Privacy Statement of Pavilion Bukit Jalil as available for viewing at https://www.pavilion-bukitjali...;

The Prize is not transferable and exchangeable for up-front cash or credit of any kind, whether in part or in full;

The Prize, when accepted by the Winner, shall be entirely at the risk of the Winner.

If any Mother's Day Shop & Win Contest Winner(s) chooses not to accept the Prize for any reason whatsoever, he/she shall forfeit all claims to the Prize, which will be dealt with, according to Pavilion Bukit Jalil's sole and absolute discretion.

Pavilion Bukit Jalil will not be responsible to reimburse the Winner with payment equal to the value of the Prize and/or replace with another Prize of similar value. Pavilion Bukit Jalil reserves the right at its absolute discretion to substitute the Prize with another item of a similar retail value at any time without prior notice;

Pavilion Bukit Jalil shall not be liable for any risk, loss or damage to the Prize upon handover of the Prize to the Winner. Neither shall Pavilion Bukit Jalil be liable for or obligated to recognise or replace any defective, lost, damage or stolen Prize;

Other promotions are not applicable.


Terms & Conditions:

The contest period is from 1 - 31 May 2023.

This contest will end on 31 May 2023, 10pm ("deadline"). All entries received pass the deadline will not be taken into account.

Original NRIC and receipts will be required to be presented by the winners in order to claim prizes.

Prizes are not exchangeable or transferable for cash. The Mother's Day Shop & Win Contest Winner(s) is not entitled to demand or request for specific Prize conditions/requirements/preference.

The Prize(s) are provided on an "AS IS" basis without any representations or warranties of any kind. Pavilion Bukit Jalil disclaim and exclude all warranties relating to or in connection with the Prize including warranties of merchantability and fitness for a particular purpose.

No responsibilities will be taken by Pavilion Bukit Jalil Management for entries that are lost, delayed, misdirected, incomplete, or any other reason.

Employees, vendors & tenants' staffs or owners of Pavilion Bukit Jalil are not entitled to participate. Individuals will be disqualified immediately if found guilty.

All decisions made by the organiser will be final and no disputes will be entertained.

Contest schedule is subject to change without prior notice at the Management's discretion.

All entries shall become the property of Pavilion Bukit Jalil Management.

Pavilion Bukit Jalil Management shall have absolute discretion to modify or terminate the contest at any time without prior notice. It also has the absolute right to interpret and determine these applications and the Terms & Conditions.

Other Terms & Conditions apply.